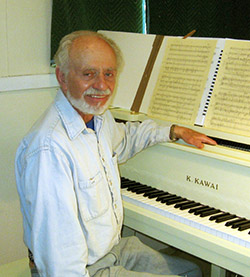 April 12, 1931 – March 6, 2021


The Boston Globe, April 15, 2021
"Martin Boykan, a composer and Brandeis professor who was 'a great sage,' dies at 89"

slippedisc.com
"Death of an American composer, 89"

Brandeis University
Department of Music
"A Tribute to Marty Boykan"
Event recording and additional remembrances

I Care if You Listen
"5 Questions to Martin Boykan"
Martin Boykan interviewed by Christian Gentry, 1/28/2013.

M

artin Boykan studied composition with Walter Piston, Aaron Copland and Paul Hindemith, and piano with Eduard Steuermann. He received a BA from Harvard University, 1951, and an MM from Yale University, 1953. In 1953–55 he was in Vienna on a Fulbright Fellowship, and upon his return founded the Brandeis Chamber Ensemble whose other members included Robert Koff (Juilliard Quartet), Nancy Cirillo (Wellesley), Eugene Lehner (Kolisch Quartet) and Madeline Foley (Marlborough Festival). This ensemble performed widely with a repertory divided equally between contemporary music and the tradition. At the same time Boykan appeared regularly as a pianist with soloists such as Joseph Silverstein and Jan de Gaetani. In 1964–65, he was the pianist with the Boston Symphony Orchestra.

Boykan wrote for a wide variety of instrumental combinations including 4 string quartets, a concerto for large ensemble, many trios, duos and solo works, song cycles for voice and piano as well as instrumental ensembles and choral music. His symphony for orchestra and baritone solo was premiered by the Utah Symphony in 1993, and his concerto for violin and orchestra was premiered by Curt Macomber in 2008 with the Boston Modern Orchestra Project conducted by Gil Rose. His work is widely performed and has been presented by almost all of the current new music ensembles including the Boston Symphony Chamber Players, The New York New Music Ensemble, Speculum Musicae, the League ISCM, Earplay, Musica Viva and Collage New Music.

He received the Jeunesse Musicales award for his String Quartet No.1 in 1967 and the League ISCM award for Elegy in 1982. Other awards include a Rockefeller grant, NEA award, Guggenheim Fellowship, a Fulbright, as well as a recording award and the Walter Hinrichsen Publication Award from the American Academy and National Institute of Arts and Letters. In 1994 he was awarded a Senior Fulbright to Israel. He received numerous commissions from chamber ensembles as well as commissions from the Koussevitzky Foundation in the Library of Congress, and the Fromm Foundation. In 2011 Boykan was elected to the American Academy of Arts and Letters, New York.

Boykan was an Emeritus Professor of Music, Brandeis University. He has been Composer in Residence at the Composer's Conference in Wellesley and the University of Utah, Visiting Professor at Columbia University, New York University and Bar Ilan University (Israel) and lectured widely in institutions such as Harvard, Yale, Princeton, The American Academy in Berlin, etc. He served on many panels, including the Rome Prize, the Fromm Commission, the New York Council for the Arts (CAPS) and the Virginia Center for the Creative Arts. Over the years he taught many hundreds of students including such well known composers as Steve Mackey, Peter Lieberson, Marjorie Merryman and Ross Bauer.

Boykan's music has been recorded by CRI (available through New World Records or Amazon.com), Albany Records, and Boston Music Orchestra Project (BMOP), and scores published by Schott Music | EAM, and C.F. Peters, NYC. In 2004 a volume of essays entitled Silence and Slow Time: Studies in Musical Narrative was published by Scarecrow Press (Rowman and Littlefield). In 2011 a second volume of essays entitled The Power of the Moment was originally published by Pendragon Press.